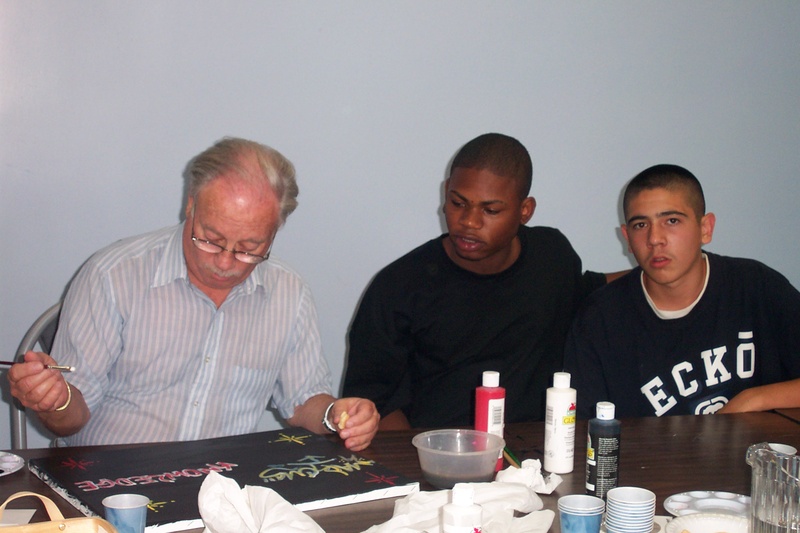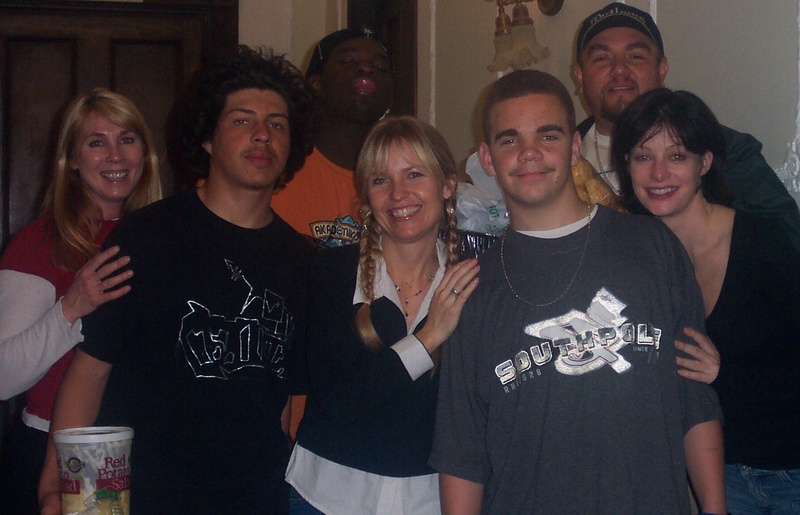 AGAPE
Agape, Spring 2007
a·ga·pe (ä-gäp, äg-p)
n.
1. Unconditional love.
I straighten my spine and take a deep breath as the lights dim in the Agape sanctuary, replaying my therapist's words; feel your feet on the floor - know that you are grounded, feel yourself in the seat- know that you are supported. I focus on my breath, keeping it slow and even.
In.
Out.
In.
Out.
The slideshow begins, bringing up the opening credits: Agape International's Spirit Award Winner: Art and Soul Programs. It would be too easy to deflect this moment, to numb out to it. Instead, I use all my energy to keep my heart open to receiving the thunderous sound of the Agape congregation, clapping and cheering. Thousands of people.
In.
Out.
In.
Out.
Over the slide show, a woman in voiceover describes my program with at-risk teens. "There are over 50,000 children living in foster care in Los Angeles. They are shuffled from place to place, assigned one social worker after the next, with no real outlet for their emotions. Art and Soul gives these children a place to shine, to express their creativity and to have a voice."
Photos of our students flash on the screen; Earnest Adrian, who called the police on his father for repeatedly beating him; Heart-of-gold Jose, with the deep scars on his wrists; Uber-talented and bubbly Carmen, her mother in prison for murder, her father a pimp; Sweet and gentle-natured Alejandra, whose family abandoned her because she "sold them out" when she told a teacher her uncle was raping her. All of them -my kids now; smiling, laughing in the photos as they paint and sing and write. No small miracle. The voice continues, "Each of the teen students is paired up with a senior mentor, who becomes an adopted grandparent as well as a creative partner."
I smile, a warmth washing over me, watching photos of the kids working with their mentors; Straight-laced Irv who learned how to rap; Kay- the resident senior hippie who loved drum circles; Bob in his motorized scooter grinning widely, his 80-year old girlfriend Flo at his side; Ian- open-hearted, smart and practical, solid as a rock for the kids even as his hands shook from Parkinsons. As their images appear one after the next, writing songs, painting canvases, performing, I feel a flutter in my solar plexus. I have assembled a family.
Some days I can still hardly believe this far-fetched dream of mine became a reality. I had always been so immersed in running things, I hadn't had time to contemplate what it looked like from the outside. Now here I sit, the observer, watching my dream on film. Years before, it was no more than a crazy idea. I had no right to make it happen, really. I wasn't a teacher or a social worker. I had no college degree. I took a risk when I wrote up a proposal, then pitched it to a nonprofit who ran group homes for teenagers. I figured if creativity had pulled me in from a ledge, then surely it could help these kids, and though I wasn't credited with degrees, I was an expert in surviving the dark night of the soul. It was that journey that led me here.
I once heard that the Bahai faith calls creativity a form of prayer. They say that in creating, you are summoning your Creator. Maybe all those years ago when I had lost my faith, I was still praying through art and song and words strung together, and those prayers were answered in unexpected ways.
This was how it happened for me: Summer of 2003, I stood before a room full of resentful, hardened teenaged boys who were dragged to my studio against their will. They plopped down begrudgingly in my donated chairs. I decorated my newly donated space with art and music posters. The shelves were stacked with books, stiff new paintbrushes, stacks of unopened paints. All unused, untested. Like me. The apathetic group-home staffers gave me a nod, then left me alone with my new charges. This was my first class. The boys slumped in their chairs, arms crossed. I was a small, blonde Valley girl trying to look brave. They were angry boys whose parents had discarded them. Some were on probation, some in gangs, all staring me down. I started by suggesting we go around in a circle, introducing ourselves.
The alpha of the group broke the silence,"Who are you, lady? Just one more person in the system tryin' to break us…" I took a deep breath and began the only way I knew how - by telling the truth. I shared my own story; my father in prison, my childhood, my life in flames. My fears, my failings, and why art had become so important to me. Through art, I found my way back to faith, but I wait to tell them this part. Their faces began to soften, becoming the faces of young boys again. One by one, they shared stories of their own lives with me. We unite first through truth. Story is where our journey begins.
Eventually, those boys, and hundreds more boys and girls, learned to trust me, and to rely on me for comfort and advice. They, like me, learned how to speak up, to trust their own voices. About six months later, my friend Joy showed up and said she'd help me, and she continued to show up for years. Together, we made this program what it is. Together, we would receive this award.
Our names echo over the sound system, summoning us to the stage. I feel myself rise as if by helium, floating above my body.
In.
Out.
In.
Out.
I reach for Joy's hand, squeezing it tight, breaking into nervous laughter as we walk toward the stage together. As singers, Joy and I had taken the stage many times before, wearing sequined gowns, singing at corporate parties. This is a very different stage. Lisa Nichols, the author and motivational speaker I had watched no less than a dozen times in the movie The Secret and on Oprah, is smiling at me- at me! - with her arms open. She steps forward to embrace me, "Congratulations, girl," she whispers, wrapping her arms around me, "you earned this. Receive it." She hugs extra tight for emphasis. Her hug feels unreal and yet very real. She's a beacon of hope, a light in the world, the kind of person anyone would want to hug. She hands me a gold plaque, our names engraved in it. I hold it in my hands, the weight of it, the smooth surface. This feels real. Lisa steps up to the microphone and says, "Agape Spiritual Center and A Season For Nonviolence L.A. gratefully acknowledge Hollye Dexter and Joy Bonner today for the healing work they are doing with foster children in our community."
The crowd rises to their feet giving us a standing ovation. My body reverberates with the thunderous sound of thousands of voices cheering - and at the same time I feel the reflex to push it away.
In.
Out.
In.
Out.
The congregation of Agape sways and sings together. Lisa bellows, "Agape! Send these women your blessings, that they might continue to do this important work!" In unison, the congregation raises their hands in the air, thousands of palms facing toward us. I will forever hold that image in my head; light filling the room, the gospel choir humming and swaying in their colorful robes, a sea of hands, reaching out to me. Answer to the prayer I'd held silent in my heart for years, when I felt so alone, when I thought even God had abandoned me. The crisp, electric energy in the room moves through me. My husband Troy stands in the front row, smiling, my best friends Erin and Beth beside him. He mouths the words "So proud of you."
Lisa reads the plaque, "For your generosity of heart and soul, brightness of mind and brilliance of spirit. For being a place of peace and for standing for the principles of nonviolence in our community, we thank you." The crowd cheers again, overwhelming us with love and appreciation and then they break into song with the gospel choir. I laugh and cry simultaneously, my emotions too large to be contained.
Following the service, Joy and I stand outside at a booth Agape has set up for us. Congregation members wait in line to greet us. We answer questions, shake hands, accept hugs, receive their gratitude. A dozen people offer to volunteer for us, and little do we know they will show up faithfully, week after week, for a year to follow. Agape people take their charity work seriously.
As the morning winds down, a beautiful young woman in a wheelchair speeds toward us, stopping short at our table. Lithe and fair skinned, with shoulder length blonde hair, she is beautiful enough to be a model. Her eyes are misty, mascara smudged beneath them. It looks like she's been crying. Her expression is urgent as she slams one hand down on the table, "I want to work with you," she says with finality. And just like that, a contract between souls begins. Lyena, whose life-affirming one-woman show chronicles her journey from dancer to tragic accident to paraplegic, will soon become our writing instructor, forever changing the lives of the teen girls she works with. She will weave in and out of my life for years, inspiring me, changing me. Little do I know, Lyena holds a missing piece to my puzzle. Through her, an answer will come that will help me to sort out the shards of my shattered life, turning them into a beautiful and ordered mosaic.
The blessings received on this day are too many to count, and will carry me. Years before, when I was lost and beaten down, when I was homeless and bankrupt, when my faith was weak and my heart so far away from any concept of hope, I never could have imagined this moment. How far my life had come.