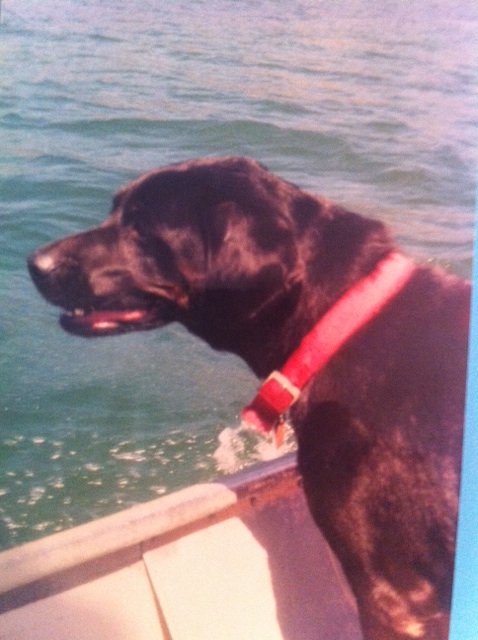 One Summer afternoon, Troy's Mom calls to ask if we might like a puppy. Troy's sister Valerie lives on a remote desert ranch where she can avoid city people, instead surrounding herself with horses and dogs. A litter of pups had just been born on the Ranch, and Valerie needs to find them homes. Troy and I talk about it. Still grieving Lady and Whitney, it almost feels disrespectful to think of a new dog, although we know we'd not be replacing them. They could never be replaced. Still, with all the sadness and heartache we're carrying these days, why not entertain the thought of new life in the house? Surely Lady and Whitney are wagging their tails in heaven at the thought of the children's happiness.
A couple days later, we pile the kids in the car, and make the drive out to the desert. I lie on the floor, a little buzzed on Chardonnay, and a lot buzzed on puppies. I let them climb all over me, nip at my fingertips, nuzzle my ears. A puppy would bring healing and happiness for the kids. For us. Maybe now is the right time to bring a new family member home.
We choose the most calm and gentle pup, a little black lab mix with sparkling dark eyes. We name her Sky, like the huge inky desert sky under which she was born. We like the open possibility of that name. The first night we bring her home, she nestles in bed with me and sleeps against my body for warmth - her little puppy body twitching with puppy dreams. This is the first time in a year that I sleep through the night, peaceful and calm. This is the very last time I will experience her as calm.
Within days, Sky turns into the Tasmanian devil, her energy so intense you can't even pet her. She's all over us, attacking, scratching, biting. She can't sit still for a millisecond. She has boundless nervous energy that we are unprepared to handle. We have to hold her on a leash inside the house if the kids want to pet her. We try to exhaust her by taking her on walks but it's like trying to leash a tornado. Before long, Sky will completely destroy our beautiful English garden. To be fair, she has some help. At the same time we get Sky, an industrious gopher moves into our backyard. There are times Troy and I will be sitting in the Jacuzzi, and one of our lilies will start to tremble, then shake, and then whoosh- sucked underground in an instant. Sky tears after it. Her specialty as a black lab is digging. Troy wages a Caddyshack-like war on the gopher. He tries everything: putting a high-pressure hose in the gopher holes, exhaust from the car tailpipe. My gentle, peace-loving husband even goes after him with a shovel.
One morning I was sitting outside writing, and the little guy poked his head up. He and I stared at each other for the longest time. His beady black eyes glittered, his long lethal front teeth reminding me of the damage he had already done and was yet to do. But he was so darn cute, just peacefully staring at me.
I pleaded with him, " I don't want to hurt you. Please just go away. Please."
He blinked, his little pink nose trembling. Alas, he did not honor my request.
Eventually the war between he and Sky runs it's course, and the entire yard and lawn is nothing but patches of dead grass and dirt. Losing our beautiful place of rest and calm breaks my heart, but if anything, I've learned not to stress over things like that. We're old pros at losing material things. A lawn and landscape? Eh. Peace in our home, however, is something I can't lose.
Contrary to our best-laid plans, Sky does not bring peace and healing to our home. Instead she brings stress and chaos. I don't know if it's possible for a dog to have ADHD, but if it is, we've gotten her. There are many times I contemplate whether I have the strength to endure her. She chews the corners of our custom cabinets, the legs on our donated antique furniture. The time I nearly give up- I find her eating the few baby pictures I had left of Cristen and Taylor. I skirt the edge of a nervous breakdown that day.
I don't have what it takes to raise a special-needs dog, especially at this time in my life. Whitney and Lady were so calm, so easy. I guess I expected the same from Sky. What was I thinking? I will forever more say to friends that I'd have three more children via natural childbirth before I'd ever bring a puppy into my home again. But we stick by her. She's ours. We're a wobbly, struggling family, and we'll do the best we can.
When finally we train Sky to sit so we can pet her, her whole body trembles. It takes all her willpower to simply sit. She bares her teeth to imitate our smiles, her tail nervously thumping the ground. She is such a good dog at heart. I know she can't help it that she was born with so much voltage- it's just her nature. So we take her camping and teach her to fetch, and swim, and catch a Frisbee mid-air. We do everything we can to fully exhaust her before bringing her in for the night.
If everything happens for a reason, maybe Sky is here to pull us out of ourselves. She doesn't make us happy, exactly, but she also doesn't allow us much time to be introspective and wallow in our misery, and for that, I suppose, I am grateful – maybe not in the moment – but one day I will be. In every life, you have that one pet who will impact you, imprint on you forever. The irony is that Sky, the Tasmanian Devil-Dog, will turn out to be that one.